Are you licensed by the state:
Yes, we are licensed as a Type II Center. What that means is we have more regulations to follow and we do not accept state funds.
How can I get more information about Fundamentals Early Learning Center?
Visit our Contact Us page to contact us at 225-435-4323.
Is there a waiting list?
Occasionally, we will have a waiting list for certain age groups. However, the list is always longer on paper than it is in reality. We do our absolute best to accommodate the families that are on our waiting list as quickly as possible.
What are your hours of operation?
6:30 am – 6:00 pm Monday-Friday.
As a prospective parent, can I tour your facility at anytime?
Yes; however, our top priority is caring for the children already enrolled. Therefore, unscheduled tours may result in a very brief walk-through of our center and limited information received. Tours are more informative if we are able to have a Director scheduled to give the tour. Tours can be scheduled any time of the day and we encourage you to bring the whole family to experience our curriculum in action. The best times to schedule a tour are 9:00 am – 12:00 pm and 2:00 pm – 3:00 pm. This will allow you to see the children during active times aside from our "rush hours".
As a parent, can I visit/come into the center at anytime?
Yes, we have an open door policy and parents of enrolled children are always welcome! Anytime! If you are interested in enrolling your child, please call and set up a convenient time to visit and explore our program.
Do you have certain times during the day that children are not allowed to be dropped off?
Yes. Children are not allowed to be dropped off between the hours of 9:30 am and 2:00 pm without a doctor's excuse. We prefer for children to be dropped of by 8:00 am. This allows for a consistent and structured schedule for each child and the group within the classroom. It also allows for proper lunch counts and teacher scheduling.
Do you close for holidays, and do I have to pay when you are closed?
Yes, we do close for selected holidays. Our list of holiday closures can be found in our student manual. We will also provide you with a Holiday Closure calendar upon enrollment and at the beginning of each year. You do have to pay for the full week of tuition even if we are closed for a holiday. We offer an unlimited number of Vacation credits throughout the year and your tuition will be reduced by half if child doesn't attend the entire week.
What is "Preschool" and is Fundamentals a Preschool?
Preschool is : A beginning group or class enrolling children younger than 5 years old and organized to provide educational experience under professionally qualified teachers in cooperation with parents during the year or years immediately preceding kindergarten (or before entry into elementary school when there is no kindergarten).
Yes, Fundamentals is a preschool. We strive to have certified teachers in all classrooms. We will join with you and your family to offer your child programs that encourage, stimulate, and guide physical, social, emotional, and intellectual growth. We use Developmentally Appropriate Practices (DAP) as our basis when creating lesson plans for the classrooms. A developmental approach to curriculum design is dependent on the child's developmental status, responsive to the child's strengths, interests, needs, and experiences which are meaningful, relevant, and respectful of the social and cultural context in which children live. Because of this, our teachers are directly responsible for developing and implementing DAP lessons.
Are services offered during the summer?
Yes, we operate year-round.
Do you offer a before/after school program?
Yes. We serve children of all ages up to 12 years old.
How do I enroll?
Visit the center of your choice. Make certain we can meet your child's needs. Complete the necessary paperwork. Pay your registration fee and first week's tuition. YOUR DONE!
What happens if I need to withdraw my child from your center?
We require a two week withdrawal notice. It must be in writing. At the end of the two week notice, you pay your account balance in full and you may withdraw with no strings attached. However, if you fail to give a two week withdrawal notice in writing, we will bill your account for the two weeks tuition and send to collections.
How does Fundamentals ensure my child's safety?
The safety of the children in our care is our first priority! Each of our schools feature:
Secured Entry
Secured Finger Imaging Authentication Check In/Out system
Live Web Cams
Age Appropriate Toys and Materials
Background Screening of all Staff
CPR and Pediatric First Aid certified Staff
Daily Safety Checks
Appropriate Child to Staff Ratios
Active Supervision
Escort/Guardian Screening
Will I be called immediately if my child should become ill or injured?
Yes, under most circumstances, our staff members will contact you immediately upon your child becoming ill or injured. Our schools closely follow the license regulations on exclusion of children due to health issues. If your child's symptoms are any of those listed, you will be asked to pick up your child. Often, the calls are just courtesy calls that let you know how your child is feeling and give you an opportunity to contact your child's doctor, pick up your child a little early, or make alternate plans for care the next day.
Will my child play outside during extreme weather?
Keeping children safe and healthy is very important to Fundamentals. Outdoor activities provide an important time for children to engage in physical activity while building their large muscles. Children should play outside for thirty minutes twice a day to give them fresh air and opportunities that only outside times can provide. Fundamentals follows the state license guidelines for outdoor play, which take into account the heat index, air quality rating, and wind chill factor. If the weather is extreme of these indicators, children will participate in gross motor activities in their classroom.
What if my child takes medication?
Medication, including any over the counter products, can only be administered with the proper Medication Authorization forms – Physician and Parent are required. Please help us secure all medications by handing the medicine to a member of management so we can lock it in our medication box.
What if my child has food allergies?
At Fundamentals, we want to ensure every child's safety. If your child has any food allergies please notify the school immediately so we can add your child to our allergy list. Your child's physician will need to complete our Allergy Care Plan to allow us to properly address their allergies. Our menu is available for parents to review. Substitutions will be made when possible; however parents must provide a substitute if one is not available.
How does Fundamentals handle potty training?
Our Teachers work closely with parents to determine when a child is ready to start potty training both at home and at school. Children are encouraged to regularly attempt to use the toilet or just to try as they are starting out. As the child experiences more successes, you and your child's teacher will decide when to move from diapers or pull-ups to training pants.
How does Fundamentals handle biting?
Biting can be a very stressful time for all parties involved and it can be challenging to find a solution since biting happens for different reasons for different children. Not all children will go through this phase but it is usually unavoidable when children are in an early childhood program.
Our teachers will "shadow" a child who has bitten. This usually helps the child learn to resolve conflicts through redirection and/or role modeling. When a bite occurs, an Incident/Accident Report will be completed on both children and their parents notified. We follow our Confidentiality Policy and do not release the names of those involved. We also keep records of the biting occurrence to help our staff detect patterns so that we are able to deter future biting. These reports are useful to create an action plan to help the child move through the biting phase.
What are your fees?
We do not offer our fees over the telephone or internet. You must visit one of our centers and the Director will share our fees with you. Our fees are subject to change anytime and may differ from one center to another.
Do I have to pay full tuition even if my child is absent?
No. If your child is absent for an entire week, Monday-Friday, you can use a Vacation Credit for that week. The Vacation Credit will give you a 50% discount for that week's tuition. You may use 4 Vacation Credits as you would like throughout the year.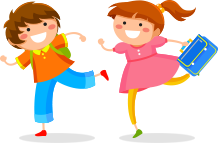 Take a Tour
If you would like to schedule a tour of our facility, visit with and get to meet some of our wonderful staff, give us a shout and book your appointment by clicking below.
BOOK IT NOW